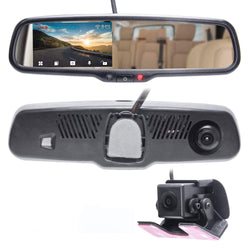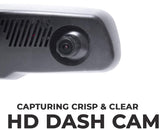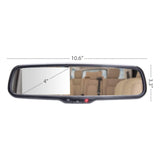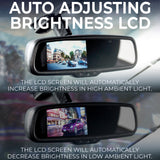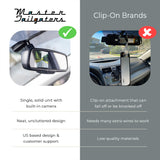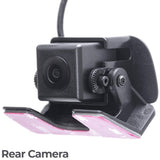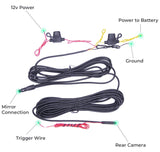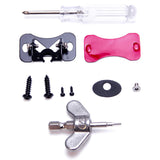 Master Tailgaters
Master Tailgaters 10.6" OEM Rear View Mirror Dash Cam with 4" LCD Screen | Rearview Universal Fit | 1080p 30fps HD DVR | Dual Way Video Recorder with WiFi | Anti Glare | AHD Backup Camera Included
SKU: MR-4-F3DVR1
SALE $229.99
MSRP $239.99
local_shipping FREE SHIPPING
verified_user 2 YEAR WARRANTY
Master Tailgaters 4" LCD Rear View Mirror with 1080p 30fps HD DVR Dual Way Video Recorder with WiFi + AHD Backup Camera Included
The OEM replacement Ultra Bright 4" LCD Rear View Mirror with Dash Cam fully replaces your current rear view mirror. It has a LCD display sensor that will automatically adjust the LCD's brightness to the ambient light. Switch between standard mirror and viewing LCD screen with the press of a button.
View and save your recorded videos through WiFi connection using your smart phone!
The HD DVR dash cam records in 1080p at 30 frames per second with improved super night vision HDR. With the built in G-Sensor files are automatically locked if a crash is detected. There is no need to manually manage the files, the camera will overwrite the oldest files to save space.
The unit comes with a mount that works with many vehicles: Toyota, Nissan, Honda, Mazda, Mitsubishi, GM etc. A Universal windshield mount is also included allowing this unit to be easily installed on any vehicle.
Features:
Ultra high brightness display screen
Dual way recording (Front DVR and backup camera recording)
Front recording 1080p camera
G-Sensor
Auto start recording when car is on
Backup camera display (AHD BACKUP CAMERA INCLUDED)
Super compacitor build-in
Automatic brightness adjustment
Super Night Vision with HDR
Specifications:
Brightness: Ultra High Brightness (Twice as Bright)
Screen: 4" LCD monitor, 480 x 800
Memory: SD card, max 128GB, class 10+ (NOT INCLUDED)
Camera: 2K 335 Image Sensor 140° Angle
Recording Resolution: 1080p @ 30FPS
Audio: Built in microphone and speaker
Signal Format: NTSC/PAL

[SCREEN]: Ultra Bright 4" LCD (Twice as Bright) with Auto Adjusting Brightness
[DASH CAM]: 140 Degrees CMOS Camera, Records in 1080p @ 30 Frames Per Second.
[MIRROR]: 4mm Thick Glass , OEM style
[FEATURES]: Auto Recording, Night Vision, G-Sensor Shock Technology, WiFi Enabled
[BACKUP CAMERA]: Mirror does NOT have RCA Input and will not work with Backup Cameras that use a Video RCA Connector, **Mirror Only Compatible with INCLUDED Backup Camera**
LCD Display Automatically Turns On When Vehicle Put In Reverse