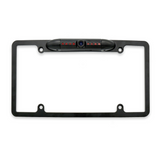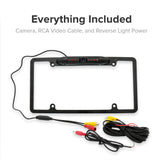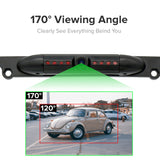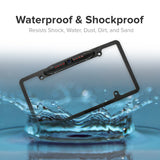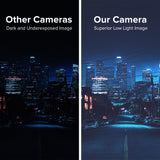 Master Tailgaters
Master Tailgaters License Plate Frame Front or Backup Camera with 8 IR LED Night Vision, Metal Construction, 170° Wide Angle Camera, Waterproof
SKU: MC-L2
Master Tailgaters License Plate Frame Front or Backup Camera with 8 IR LED Night Vision, Metal Construction, 170° Wide Angle Camera, and Waterproof Design
Constructed of sturdy metal, this license plate frame backup camera is the perfect way to upgrade your vehicle easily!
Easy to Install
This small license plate frame camera easily fits on top of your license plate and screws in with your existing screws.
170° Wide Angle Lens
With a 170° wide angle lens with a high resolution everything behind your car will be visible. The camera assembly tilts up and down allowing it to adjust to your car's specific design.
Optional Parking Lines and Forward Facing Camera

The camera can be used as a front facing camera. To reverse the image just cut the green loop wire. If you don't need the parking lines the the camera's parking grid lines can be turned off by cutting the white loop wire.
Features
170° Super Wide Viewing Angle
8 IR LEDs for superior night vision
Waterproof construction, IP68 rated

Can disable parking lines

Can use as front facing camera

Low power consumption
High resolution
Installation instructions included
Works perfectly with our line of premium rear view mirrors with LCD screens.
Specifications
Viewing Angle: 170°
Size: 250 x 30 x 40 mm
Resolution: 420 TV Lines Video: NTSC
IP Rating: IP68
Effective pixels: 628 x 586
Power Supply: 12V