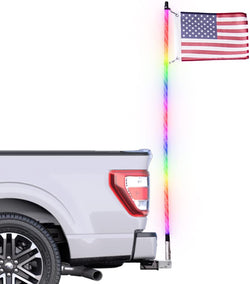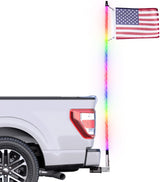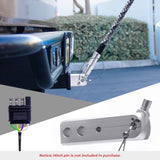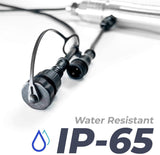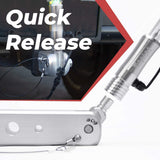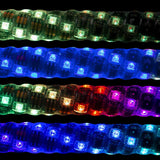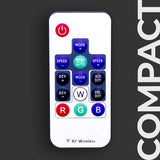 Master Tailgaters
Master Tailgaters Truck Flag Swirl LED Pole + Hitch Mount - Waterproof, Remote, 60 + Functions LED Light
SKU: MW-5H1SC
SALE $159.99
MSRP $179.99
local_shipping FREE SHIPPING
Introducing the the new Master Tailgaters Off-Road Swirl LED Flag Pole. Bright, multi colored, tough, durable! You name it!
Many Master Tailgaters parts are sold for off-road use only. All performance modifications and installations are at the customers own risk. Master Tailgates hold no responsibility either implied or otherwise for mechanical, electrical or other failure when using any aftermarket performance products. Items sold for off-road use only are illegal in many states and provinces and are intended for racing vehicles which may never be used on a public road. By purchasing any aftermarket performance product, the customer takes full responsibility for any use, and/or misuse of the product and agrees that Master Tailgaters holds no responsibility for any consequences, legal, or other, of such use and/or misuse.
Multiple Color Modes
8 Static colors - White, Red, Blue, Light Blue, Green, Orange, Yellow, Purple
143 Color motion modes
Cycle through multiple color modes and combinations.
LED Flag Pole Features
Packed with multiple features and specs!
5' Foot Whip
300+ LED Diodes
143 Light Modes and Cycle
8 Static Colors
16 Bright Levels
10 Light Speeds
Power 5v-24v
Wireless Remote
IP-65 Water Resistant
18mm Quick Release

[BRIGHT & COLORFUL] : 300+ LED Chips, 8 Colors, 143 Dynamic Lighting Modes
[WATERPROOF] : Waterproof IP68 Resistant, End Cap Protector to Keep Cables Dry
[DURABLE] : Withstand Any Weather Conditions, Thicker/Better Quality Wiring
[EASY INSTALLATION] : Quick Release/Connect Base for Power
[INCLUDES] : LED Whip, Hitch Mount, 20in Power Cable, American Flag, Remote Control, Instruction Manual