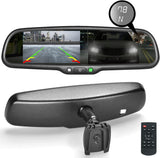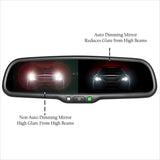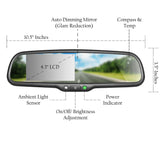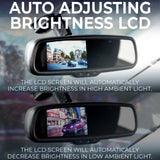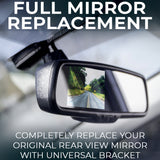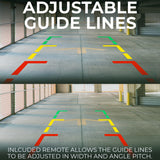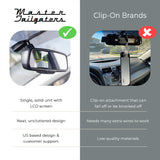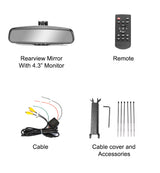 Master Tailgaters
Master Tailgaters 10.5" OEM Rear View Mirror with 4.3" LCD Screen + Dimming + Adjustable Guide Lines + Compass & Temperature | Rearview Universal Fit | Auto Adjusting Brightness LCD | Anti Glare | Original Mirror Replacement
SKU: MR-43-A2DTC
SALE $209.99
MSRP $266.99
local_shipping FREE SHIPPING
verified_user 2 YEAR WARRANTY
Master Tailgaters Ultra Bright 4.3" Auto Adjusting Brightness LCD Rear View Mirror with Compass And Temperature
At Master Tailgaters, we focus on providing superior quality aftermarket parts for your vehicle. This Model is our Highest End Mirror, the Best of the Best.
The OEM replacement aftermarket Ultra Bright 4.3" LCD Rear View Mirror fully replaces your current rear view mirror. It has a LCD display sensor that will automatically adjust the LCD's brightness to the ambient light. On bright days, the screen will be brighter and at night, the screen will be dimmer. With TWO video inputs, you are able to display 2 different types of images. The LCD includes ADJUSTABLE backup lines. Perfectly set your backup lines to match your vehicles body style.
This model also includes an Auto Dimming mirror. When there is high glare from behind due to High Beams or Bright lights, the mirror auto dim to reduce glare. This model also includes a built in Compass and Outside Temperature sensor displayed on the upper right corner.
The unit comes with a mount that works with many vehicles: Toyota, Nissan, Honda, Mazda, Mitsubishi, GM etc.  A Universal windshield mount is also included allowing this unit to be installed on any vehicle.
Our Rear View Mirror has an industry leading, clear and distortion free, 4mm thick glass mirror.
Specifications:
Brightness: Ultra High Brightness ( Twice as Bright)
Screen: 4.3" TFT LCD monitor
Resolution: 480 x 272
Video Input: 2 Video RCA Inputs
Signal Format: NTSC/AUTO/PAL
Working Temperature: -4℉ ~ 168℉
Format: 16:9
Mirror:  4mm Thick Glass
Features: Compass and Outside Temperature

Included in Box:
Rear View Mirror
Cable Assembly
Cable Cover
ZipTie
Universal Mounting Bracket
Remote


[SCREEN]: 4.3" TFT Ultra High Brightness LCD - Auto Adjusting Brightness with AUTO DIMMING MIRROR
LCD Display Automatically Turns On When Vehicle Put In Reverse
[INPUTS]: 2 Video RCA Inputs
[MIRROR]: 4mm Thick Glass with Compass and Temperature + Remote
Plugs in to most Backup Cameras with RCA Inputs **Backup Camera Not Included**