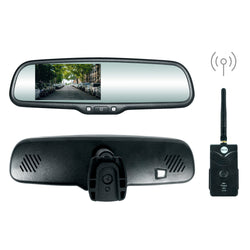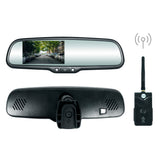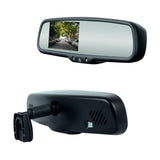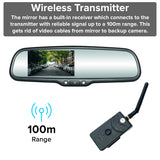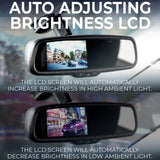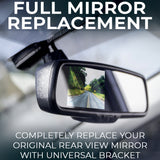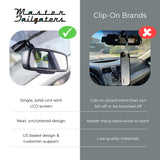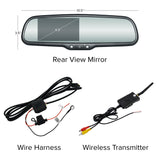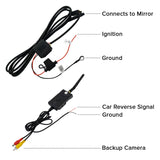 Master Tailgaters
Master Tailgaters 10.5" OEM Rear View Mirror with 4.3" LCD Screen and Wireless Transmitter | Rearview Universal Fit | Auto Adjusting Brightness LCD | Anti Glare | Full Mirror Replacement
SKU: MR-43-A1W
SALE $139.99
MSRP $155.99
local_shipping FREE SHIPPING
verified_user 2 YEAR WARRANTY
Master Tailgaters Rear View Mirror with 4.3" High Brightness LCD & Wireless Transmitter - Universal Fit
This OEM replacement High Brightness 4.3" LCD Rear View Mirror with Dash Cam fully replaces your current rear view mirror.
It has a LCD display sensor that will automatically adjust the LCD's brightness based on the ambient light. The unit requires a 12V power source to power the unit.
Our Rear View Mirror has a industry leading, clear and distortion free, 4mm thick glass mirror. The OEM style gives you a sleek and original look fully complimenting your vehicle's interior.
Easy to Install:
Installation is easy, simply remove your factory mirror and slide in our Replacement Mirror to your factory bracket. It comes with a universal mount that allows this unit to be installed on any vehicle.
With the wireless signal transmitter, there is no video cable to run from your backup camera to the mirror and no hard-wiring needed! The Mirror will start up once the car's engine is turned on.
Backup Camera Display:
A backup camera can be hooked up to the LCD screen and will automatically display when the car is put in reverse so you can see what's around your car.
The LCD screen's brightness will also adjust to the ambient light to display a clear and comfortable image.
**Backup Camera Not Included**
Wireless Transmitter :
The Rear View Mirror has a built-in 2.4G Wireless Digital Receiver which connects to the included Wireless Transmitter. It has reliable signal transmission for picture and video for up to a 100m range. This reduces the amount of complicated cables - connecting the backup camera to the mirror for backup camera display. Instead, the display is sent to the mirror through the wireless digital display, replacing the video cable completely!
The transmitter is installed in your trunk, with the receiver built-in to the rear view mirror itself. Others will give you a second, bulky receiver to install, which is separate from the rear view mirror.
Features:
- High Brightness 4.3" LCD Touch Screen
- Built-in Wireless Digital Signal Transmitter
- Reduces Amount of Confusing Cables - Wireless Transmitter Replaces Video Cable
- Universal Mount to Fit All Vehicles
- Automatic Brightness Adjustment LCD
- Easy to Install
Specifications:
Screen: 4.3" LCD monitor
Brightness: High Brightness (Twice as Bright)
Screen Resolution: 480 x 272
Recording Resolution: 30FPS
Recording Angle: 170°
Installation:
Installation of this Rear View Mirror is a breeze.
The unit comes with a mount that works with many vehicles: Toyota, Nissan, Honda, GM, etc.
A Universal windshield mount is also included allowing this unit to be easily installed on any vehicle.
All the parts needed to install this Rear View Mirror are included: Rear View Mirror, Wire Harness, Wireless Signal Transmitter, Wire Cover, and User Manual.
Prior to installing and running all wiring, double check to make sure everything is in proper working order.
Attention!
Works with all vehicle brands.
The package includes a Universal Windshield Mount if mirror mount does not properly fit your vehicle.
If you have any questions, just ask!
[SCREEN]: 4.3" LCD - Auto Adjusting Brightness
[BRIGHTNESS]: High Brightness
[MIRROR]: 4mm Thick Glass
[FEATURES]: Built-in 2.4G Wireless Digital Receiver & Transmitter - Replaces Video Cable Connecting Backup Camera to Mirror
LCD Display Automatically Turns On When Vehicle Put In Reverse **Backup Camera Not Included**