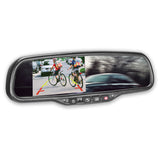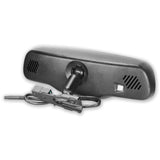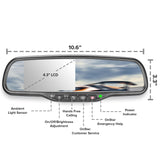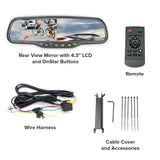 Master Tailgaters
Master Tailgaters OEM Rear View Mirror with 4.3" Auto Adjusting Ultra Bright LCD and OnStar Buttons (for backup cameras) - Hooks Into Your Existing OnStar Wire
SKU: MR-43-H2
SALE $169.99
MSRP $224.99
local_shipping FREE SHIPPING
verified_user 2 YEAR WARRANTY
Master Tailgaters Rear View Mirror with OnStar Buttons - Hooks Into Your Existing OnStar Wire
The OEM replacement Ultra Bright 4.3" LCD Rear View Mirror with OnStar Buttons fully replaces your current rear view mirror and hooks into the existing wire for your OnStar services. It has a LCD display sensor that will automatically adjust the LCD's brightness to the ambient light.
The unit comes with a mount that works with your Buick, Chevrolet, GMC, and Cadillac vehicle. A Universal windshield mount is also included allowing this unit to be easily installed on any vehicle.
This mirror is for aftermarket applications and will NOT plug into a factory existing backup camera system. 
Features:
- Ultra high brightness display screen
- 3 OnStar buttons with the same functions as your existing ones (Hands free calling, OnStar customer service, and emergency)
- Adjustable back up grid lines
- Backup camera display
- Automatic brightness adjustment
- Remote control for easy setting adjustment
Specifications:
Brightness: Ultra High Brightness (Twice as Bright)
Screen: 4.3" TFT LCD monitor
Screen Resolution: 480 x 272, 16:9 format
Signal Format: NTSC/PAL
Working Voltage: 12V DC
Mirror: 4mm Thick Glass
**NOTE** The OnStar services will only work if you have an existing OnStar installation in your car and are paying for the OnStar service. The buttons will not work otherwise!
[FITS]: Buick, Chevrolet, GMC, and Cadillac vehicles with existing OnStar installations
[SCREEN]: Ultra High Brightness 4.3" TFT LCD (Twice as Bright), automatically turns on when car is put in reverse *Backup Camera NOT Included
[MIRROR]: 4mm Thick Glass
[INPUTS]: 2 Video RCA Inputs - Comes with remote control for easy adjustment of settings
Plugs in to most Backup Cameras with RCA Inputs (Backup Camera Sold Separately)