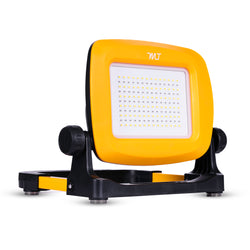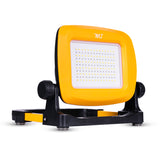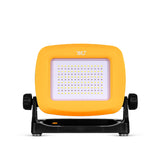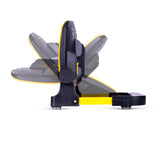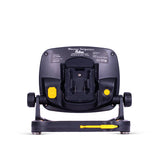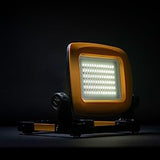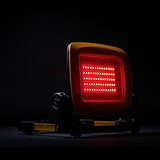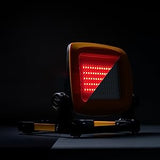 Master Tailgaters
LED Work Flood Light Compatible with Dewalt Battery - Bright White + Red Solid or Red Flashing Emergency Roadside Light Modes
SKU: ML-FD06R
local_shipping FREE SHIPPING
Introducing the 'Pulse' Flood Light by Master Tailgaters
The ultimate lighting solution for work, home, and emergency use. Engineered to deliver unmatched versatility and reliability, the Pulse flood light is a game-changer in portable lighting technology.
Powered by Dewalt batteries, this exceptional flood light boasts an impressive battery life that can last for hours at a time. With three distinct light modes to suit various situations, you have the flexibility to choose between 2500 lumens of brilliant white light, 1000 lumens of soothing red light, or a 1000 lumens red strobe light for emergency signaling.
The Pulse flood light is designed to withstand the toughest conditions, featuring a robust construction with a combination of metal and plastic composites. Its backside is equipped with a convenient USB port, allowing you to charge your devices on the go, ensuring you stay connected in critical situations.
Setting up the Pulse flood light is a breeze thanks to its multiple mounting options. The light comes with four base points on the bottom that double as magnets, enabling secure attachment to metal surfaces. It also includes a tripod insert for stable positioning and a swiveling metal hook for versatile hanging options. With its 180-degree flex feature, you can effortlessly adjust the angle of the light to illuminate any space with precision.
Illuminate your work area, brighten up your home, or stay prepared for emergencies – the Pulse flood light from Master Tailgaters is the perfect companion that combines durability, functionality, and superior performance. Experience the power of portable lighting at its best with the Pulse flood light.
Solid White Light:
2500 lumens in the white light mode of our Pulse flood light. Perfect for countless situations, it illuminates with exceptional clarity and brightness.
Solid Red Light:
Stand out and stay visible with our light's 1000 lumens red light mode. Ideal for marking locations or grabbing attention at night, its powerful illumination ensures safety and visibility in any situation.
Flashing Red Light:
In hazardous or emergency situations, rely on our Pulse flood light's red flashing mode. With 1000 lumens, it commands attention, alerting others to potential dangers or emergencies. Stay prepared and stay safe with this essential feature.
180° Fold:
Experience ultimate flexibility with our Pulse flood light's 180° folding capability. Effortlessly adjust the angle to suit your needs, ensuring optimal illumination in any direction. Illuminate with precision and convenience like never before.
Magnetic Base:
Convenience meets stability with our Pulse flood light's magnetic base. Equipped with 4 strong magnets, it securely attaches to metal surfaces, providing a reliable and hands-free lighting solution. Illuminate with ease and confidence wherever you go.
Charging Capabilities:
Stay connected on the go with our Pulse flood light's built-in USB charger. Charge your devices effortlessly, ensuring you never run out of power when you need it most. A versatile lighting companion that keeps you illuminated and connected at the same time.

COMPATIBILITY: This flood light is compatible with Dewalt Batteries (BATTERY IS NOT INCLUDED)
LIGHT MODES: Our Pulse flood lights provide three adjustable light modes including White (2500 Lumens), Red (1000 Lumens), or Red Flashing (1000 Lumens), ensuring optimal illumination for any situation.
ENHANCED VISIBILITY FEATURES: The Pulse flood light boasts three distinct light modes to optimize visibility. Its powerful white light effectively illuminates your work area, while the red light option ensures maximum attention is drawn to your presence during nighttime. Additionally, the flashing red light mode is readily available, ensuring you are always equipped for unforeseen circumstances.
USB PLUG: Stay connected on the go by utilizing the 5V USB output plug to conveniently charge your cell phone, ensuring you never run out of power when you need it most.
VERSATILE MOUNTING OPTIONS: Benefit from multiple mounting possibilities with the inclusion of a metal hanging hook, four robust magnets for convenient wall mounting, and a 180° pivot feature, allowing you to effortlessly adjust the positioning of the light as per your requirements.