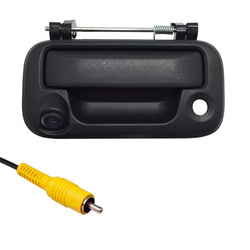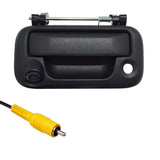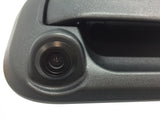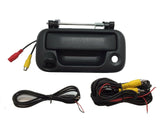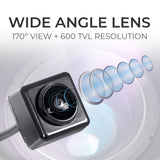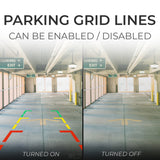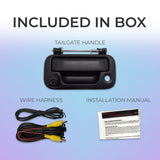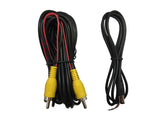 Master Tailgaters
Ford F150 F250 F350 F450 F550 (2005-2016) Black Replacement Tailgate Handle with Backup Camera
SKU: MT-F05/14B
local_shipping FREE SHIPPING
verified_user 2 YEAR WARRANTY
Ford F150 F250 F350 F450 F550 (2005-2016) Black Tailgate Backup Camera Handle
Color:
For Use With:
Ford F150 (2005-2014)

Ford F250 (2008-2016)

Ford F350 (2008-2016)

Ford F450 (2008-2016)

Ford F550 (2008-2016)
What's Included:
Tailgate Handle with Backup Reverse Camera
26 Foot Video and Power Cable
Installation Instructions
2 YEAR NO QUESTIONS ASKED WARRANTY
This camera connects to any 12V power source. For example, if you wanted the camera to always be on, you can connect it to a 12V source that is on all the time, or if you only want it when you reverse you can connect it to the reverse tail lights.
This is an aftermarket tailgate and camera, not OEM. If you plan to install this in a factory radio you most likely will need another connector (not provided).
Camera Specs:
Sensor: ¼" On-Semi (USA) CMOS Active Pixel Array, Lens: Nidec (Japan) (Glass + Plastic)
Minimum Illumination : .1 Lux light sensitivity
Signal System: NTSC/PAL
Effective Pixels: 728 x 582
Electronic Shutter: 1/50 to 1/100,000 seconds
Resolution: 600 TV lines
Angle: 170 Degrees
Waterproof Rating: IP68
Power: DC 12V
Video Cable: 26 Feet (8 Meters) 
Attention:
-Before purchasing check the back of your Monitor/Screen that you have a Yellow RCA input for easy installation. 
-Installation is still possible without the Yellow RCA, however it is much more difficult and will require a professional to splice in the Video In signal.
Note: When installing, it is suggested to put a drop of glue behind the camera against the handle to ensure the camera does not move or turn.
The red wire along the RCA cable can be used as an alternate power supply should you want to run the power from the head unit.