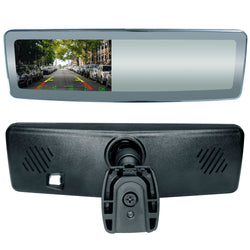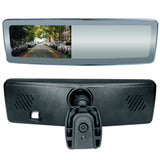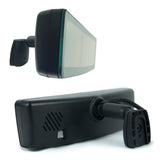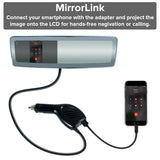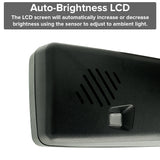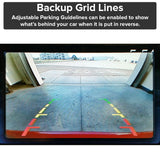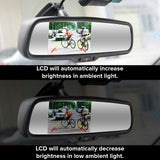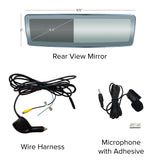 Master Tailgaters
Master Tailgaters Frameless Rear View Mirror with 4.3" Ultra High Brightness LCD & Mirrorlink with Bluetooth Calling - Universal Fit
SKU: MR-43-M2
local_shipping FREE SHIPPING
verified_user 2 YEAR WARRANTY
Master Tailgaters Frameless Rear View Mirror with 4.3" LCD Display with Mirrorlink
This OEM replacement Ultra Bright 4.3" LCD Frameless Rear View Mirror fully replaces your current rear view mirror.
It has a LCD display sensor that will automatically adjust the LCD's brightness based on the ambient light. The unit requires a 12V power source to power the unit.
Our Rear View Mirror has a industry leading, clear and distortion free, 4mm thick glass mirror.
With it's unique frameless design, the mirror displays the image bright and clear.
Easy to Install:
Installation is easy, simply remove your factory mirror and slide in our Replacement Mirror to your factory bracket. It comes with a universal mount that allows this unit to be easily installed on any vehicle.
The Mirror is powered by a regular cigarette lighter power cord, so there is no need for hard-wire installation. It will start up once the car's engine is turned on.
Adjustable Parking Guidelines:
A backup camera can be hooked up to the LCD screen and will automatically display with parking guidelines that can be adjusted when the car is put in reverse so you can see what's around your car.
As each vehicle is different, make sure the guide lines are best matched to your field of view to ensure your safety and a clear view of your surroundings.
MirrorLink:
The rear view mirror supports image mirroring with MirrorLink, which can be connected with iOS and Android devices and powered through your car's cigarette lighter adapter.
Just plug your smartphone into the included adapter using your USB charging cord and it will mirror the image onto the LCD. MirrorLink projects an exact copy of your smartphone's screen, so everything on your smartphone will be reflected onto the rear view mirror's LCD. Connecting to the mirror through Bluetooth will also make it possible to answer calls through MirrorLink, using the included microphone to pick up sound.
This feature gives you the ability to project your smartphone's screen onto the rear view mirror's LCD screen, making it safer and easier to access your phone hands-free for GPS navigation or answering phone calls.
Features:
- Ultra Bright 4.3" LCD Touch Screen
- Mirrorlink Connects to iOS or Android Smartphones
- Answer Phone Calls Through Bluetooth
- Universal Mount to Fit All Vehicles
- Automatic Brightness Adjustment LCD
- Adjustable Backup Grid Lines
- Microphone and Speaker
Specifications:
- Screen: 4.3" LCD monitor
- Brightness: Ultra High Brightness (Twice as Bright)
- Screen Resolution: 480 x 272
- Speaker: 8Ω/1.5W
- Working Temperature: -4°F ~ 167°F
- Working Voltage: DC 9V-16V
Installation:
- Installation of this Rear View Mirror is a breeze.
- The unit comes with a mount that works with many vehicles: Toyota, Nissan, Honda, GM, etc.
- A Universal windshield mount is also included allowing this unit to be easily installed on any vehicle.
- All the parts needed to install this Rear View Mirror are included: Rear View Mirror, Wire Harness, Microphone with Adhesive, Wire Cover, and User Manual.
- Prior to installing and running all wiring, double check to make sure everything is in proper working order.
Attention:
- Works with all vehicle brands.
- The package includes a Universal Windshield Mount if mirror mount does not properly fit your vehicle.
- If you have any questions, just ask!
[SCREEN]: 4.3" TFT LCD - Auto Adjusting Brightness
[BRIGHTNESS]: Ultra High Brightness
[MIRROR]: 4mm Thick Glass
[FEATURES]: Mirrorlink - Connect your Smartphone to the Mirror and Project a Copy of the Image onto the LCD Screen, Answer Phone Calls Using Bluetooth
LCD Display Automatically Turns On When Vehicle Put In Reverse
**Backup Camera Not Included**